Nicaragua Acopio Suyatal
Hi All,The Acopio Suyatal beans are some of the biggest I have ever seen. I thought I'd post some comparative photos to show this. The photos show Nicaraguan beans compared to Yemen Mokha Matari, before roast and after roast. I roasted Nicaragua beans FC+ (few seconds/cracks into 2nd crack) and roasted the Yemen to C+ (~10 seconds after 1st crack). The Nicaraguan beans appear and are at least twice as big as the Yemen beans. The Yemen beans are rather small in the first place, being similar in size to some peaberries I have roasted. Perhaps next time I will compare them to Colombian beans, which are more "standard".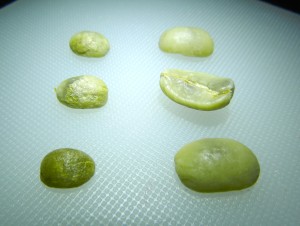 I am not the best commentator on taste, as I don't feel my taste buds are as developed as some. With that disclaimer out of the way, I will say that a FC –> FC+ roast for this bean is good, strong flavored and maybe slightly bitter. It is not very interesting beyond that. My friend Monty's espresso roast of this bean however is wonderful.